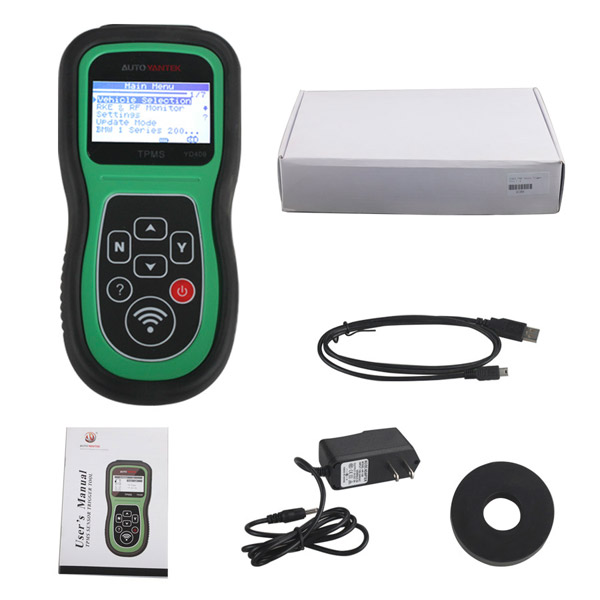 1. Triggers all currently known TPMS sensors, activates ALL magnetic, frequency and tire deflation triggered sensors on all vehicles sold worldwide. Including 2014 Models on selected vehicles
2.Checks RF Remote Keyless Entry (key FOB)
3.Support multi- language--- English, French, Spanish and more
4.1 year free online update
YD409 TPMS Sensor Trigger Tool Features:

* Make-Model-Year selection ensures correct activation and avoids crosstalk.
* Receives both 315MHz and 433MHz signals.
* Reads sensor ID, tire pressure , temperature, battery condition, OE part number, relearn information. Prints health report through computer.
* Provides visual and audible responses to confirm sensors are working properly. Warns of a wrong sensor installed, missing or faulty sensor, duplicate ID, and incorrect sensor mode.

* Provide navigation and step-by-step instruction on the screen, Even the newest recruited technician can use the YD409.
* Built-in rechargeable Li-polymer battery. Automatic power-off. Two options to charge the tool, wall plug or by connecting to the compute.
* Proper LF signal to prevent being fooled by other RF signals.
* Saves up to 10 TPMS records for future data review.
YD409 TPMS Sensor Trigger Tool Specification:

Display: Backlit, 128*64 pixel display with contrast adjustment 

Operating Temperature: 0 to 60¡ãC (32 to 140¡ãF)

Storage Temperature: -20 to 70¡ãC (-4 to 158¡ãF)

Power: 3.7V Li-polymer battery 

Radio reception: 315 MHz and 433.92 MHz
YD409 Packing list:

1pc x YD409 TPMS Trigger Tool
1pc x User¡¯s guide
1pc x USB cable
1pc x Software CD
1pc x Magnet
1pc x Battery Charger
1pc x Blow molding case